Profile - Penny Rivard-Sherman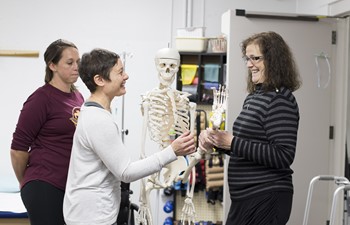 Instructor Profile
Meet Penny Rivard-Sherman
Instructor of PTA
Master of Arts (MA) in Education, St. Catherine University; Bachelor of Arts (BA) in Physical Therapy, College of St. Scholastica
Question and Answer
Question

What is your approach to teaching?

Answer

I use a variety of teaching methods in my classes in order to accommodate all types of learners.

Question

What inspires you as a teacher?

Answer

I'm inspired by my students. I love standing in front of the classroom and looking out over the class and seeing the light bulbs flicker when they are starting to understand the material. That's what motivates me as a teacher.

Question

What are some ways that you help students succeed when they need extra help?

Answer

Students are always welcome to make an appointment with me to review material. Our program also has several things in place to help students: mentoring program, review sessions, study groups, and tutoring.

Question

How do you help your students get the most out of your class?

Answer

I try to incorporate active learning activities throughout class periods so students aren't sitting there listening to a lecture for the entire class period. I try to make learning fun to keep students engaged.
Fun Facts
Fun Fact #1

It would not be unusual for you to see me dancing in the classroom.

Fun Fact #2

I was born with polydactyly - an extra finger on each hand.

Fun Fact #3
Meet Our Students and Alumni
Student Carousel
Carousel Navigation
Carousel Slides
Meet Rumen Hulmequist

Rumen Hulmequist

Allied Health

AS Exercise Science

"I chose Anoka-Ramsey because I knew I wasn't ready academically, mentally and independently for a four-year university, and I knew that Anoka-Ramsey would support me. Anoka-Ramsey has helped me develop in my personal and academic success."

Meet Kayshree Jagannath

Kayshree Jagannath

MnTC

AA Psychology Emphasis

"Anoka-Ramsey has a friendly environment of people and the staff is so friendly. There are a wide variety of program courses to choose from, and its courses are part of the Minnesota Transfer Curriculum (MnTC)."

Meet Robert Walz

Robert Walz

World Language

Spanish

"I attribute my success to outstanding instructors and my acceptance by regular students in my classes. If anything, I became a resource to them and a role model for life-long learning."
Carousel Pagination