Profile - Jamie Haddox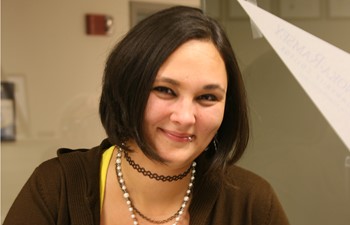 Student Profile
Meet Jamie Haddox
Creative Writing program
Question and Answer
Question

Why did you choose Anoka-Ramsey Community College?

Answer

I initially chose Anoka-Ramsey because it was close to home and was inexpensive. It was also a learning environment that made it easy for non-traditional students like me to succeed. Online and night classes worked well for me. I never had to change my work schedule to go to school.

Question

Name one of the best aspects of Anoka-Ramsey.

Answer

I'm very much overcome with gratitude toward the faculty at Anoka-Ramsey. The English Department really got behind me, encouraged me and led me. The time they devoted to my achievement was above and beyond the call of duty.

Question

What would you say to a person considering attending Anoka-Ramsey?

Answer

You can take a lot of your classes online or at night, so you won't have to rearrange your life to go to school. If you're a non-traditional student, you won't be alone. There's almost always someone older than you in every class. The staff is enthusiastic in their relative fields and you'll be sure to get support in your endeavors.

Question

What is one thing you would like people to know about the Creative Writing program?

Answer

The Creative Writing program at Anoka-Ramsey is great! The staff is wonderfully dedicated to your achievement. The curriculum will get you reading and writing habitually, and really prepare you for your next move. I had the honor of studying under published authors with great insight into the career field.
Fun Facts
Fast Fact #1

Jamie received an Anoka-Ramsey Outstanding English Student of the Year award.
Meet Our Students and Alumni
Student Carousel
Carousel Navigation
Carousel Slides
Meet Joshua Chase

Joshua Chase

Arts & Communication

Creative Writing

"The teachers are, hands down, the best part of Anoka-Ramsey. I've always read a lot, but while at Anoka-Ramsey, I had teachers who gave me entirely new perspectives on the writers and works I was already interested in. I always knew I liked certain authors, but couldn't really put my finger on why. After my time at Anoka-Ramsey, I had a much better understanding.

I spent a lot of time in the advising office. Having transferred many of my credits from a community college in Nevada, I wasn't really sure how to proceed in a new state with different graduation requirements."

Meet Jamie Haddox

Jamie Haddox

Arts & Communication

Creative Writing

"Having taken creative writing classes at Anoka- Ramsey, I can honestly say that talent alone isn't enough, no matter how talented. There's so much I didn't know. I've also learned that part of writing is having a network. You'll never meet half the people you should without going to school."

Meet Javier Abrica

Javier Abrica

MnTC

Associate in Arts

"When I walked through the doors here, I knew this was the place to get started. I've enjoyed it here ever since. Being Hispanic I appreciate the diversity at Anoka-Ramsey. I have met people from all over the world. It's fun to have them share their cultures with me, and to see they have the same interests as I do."
Carousel Pagination