Profile - Dr. Melody Hoffmann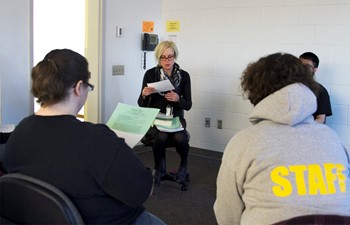 Instructor Profile
Meet Dr. Melody Hoffmann
Instructor of Communication
Doctor of Philosophy (PhD) in Communication Studies, University of Minnesota; Master of Arts (MA) in Media Studies, University of Wisconsin Milwaukee; Bachelor of Arts (BA) in Journalism and Mass Communication, University of Wisconsin Milwaukee
Question and Answer
Question

Would you list some recent accomplishments?

Answer

Awards:

Community Innovations Grant recipient, Bush Foundation. In partnership with Cycles for Change ($10,000) (2015)

Publications:

Bike Lanes are White Lanes: Bicycle Advocacy and Urban Planning. Lincoln, NE: University of Nebraska Press (2016)

Bicycle Justice and Urban Transformation: Biking for All? Co-editor with Aaron Golub, Adonia Lugo, and Gerardo Sandoval. New York: Routledge (2016)

"'Swerve! I'm on my Bike!': Mediated Images of Bicycling in Youth- Produced Hip Hop." Culture on Two Wheels: The Bicycle in Literature and Film. Edited by Jeremy Withers and Daniel Shea. Lincoln, NE: University of Nebraska Press. (2016)

"Recruiting People Like You: Socioeconomic Sustainability in Minneapolis's Bicycle Infrastructure." Incomplete Streets: Processes, Practices, and Possibilities. Edited by Stephen Zavestoski and Julian Agyeman. New York: Routledge, 2015. 139-153. (2015)

"Who is World Class? Transportation Justice and Bike Policy," with Adonia Lugo. Urbanities 4(1): 45-61 (2014)





Question

What is your approach to teaching?

Answer

My teaching is based on expanding the boundaries of the classroom, introducing students to the people they study, challenging them to create their own media and fostering respectful student debates about current social issues.

Question

How would you describe what happens during one of your most successful classes?

Answer

A successful class period results in a robust class discussion about a current event or social issue. Students disagree with one another, learn from each other's viewpoints and share their personal experiences.

Question

What makes your curriculum interesting or valuable to students?

Answer

My curriculum is valuable because we study the media we interact with on a daily basis. But students discover that their interactions have been reproducing status quo and antiquated understandings of society. Students learn to see the sexism, racism and classism embedded in mainstream media. They discover alternative media texts that speak more directly to who they are.

Question

How do you think students describe your teaching methods and classes?

Answer

Students have referred to me as strict and laid back. I am sarcastic. I have a personable demeanor in the classroom but expect excellence out of their work. Students would say I bring in a lot of current events and issues that represent our course content. They'd also say I am bad at writing things on the whiteboard; I much prefer to have a deep discussion with them.
Fun Facts
Fun Fact #1

I use my bicycle as my primary mode of transportation. Because it is a two-hour bike ride to school, I try to take the bus to Anoka-Ramsey as much as possible. Driving is my last resort.

Fun Fact #2

I make a mean batch of vegan cookies!

Fun Fact #3

I am a huge Minnesota Lynx fan.
Meet Our Students and Alumni
Student Carousel
Carousel Navigation
Carousel Slides
Meet Thanh Ngo

Thanh Ngo

MnTC

Associate in Arts

"My education will allow me to live a better life, and to set an example for my children."

Meet Elise Boyum

Elise Boyum

MnTC

Associate in Arts

"I loved each one of my instructors, regardless of the subject or class size. Their willingness to engage with students one-on-one, offer assistance, and promote success was extremely beneficial to me and contributed to my overall wonderful experience at Anoka-Ramsey. Overall, the personal connections that I made during my time at Anoka-Ramsey added greatly to my experience and education."

Meet Yelizaveta Babashova

Yelizaveta Babashova

MnTC

AA Communication Studies Emphasis

"One thing I want people to know about Anoka-Ramsey is that just because it's a community college, doesn't mean that you're getting any less of an education than you would at a big university. The professors are wonderful and classes are challenging. You really feel like you're getting an education that's worthwhile."
Carousel Pagination