Secondary Navigation
B.S. in Business Administration - Bemidji State University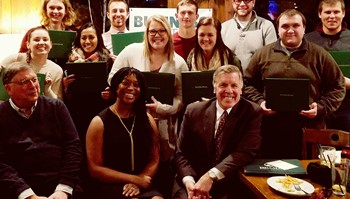 Program Information
Mondays only! Apply for FREE until November 30, 2017. $25 per-class textbook discount* for new students this spring!
Bemidji State University (BSU) is located in north-central Minnesota, but the BSU Bachelor of Science degree in Business Administration (Management or Marketing emphasis) is available at the Anoka-Ramsey Community College Coon Rapids Campus! We call it the Metro Area Business Administration program or MABA.
This innovative, flexible, and highly affordable B.S. in Business Administration includes:
Take classes on-campus in Coon Rapids during the week from BSU professors, with BSU support staff on-hand.
Very low costs, and an easy transfer process when compared to other options.
40 upper-division BSU credits are taught by full-time in-residence faculty here in Coon Rapids.
Choose the Management or Marketing emphasis area.
Start in the Spring or Fall semester!
Students admitted to this program will complete 60 credits beyond the credits required for an A.S. degree. 20 of those credits are offered by Anoka-Ramsey at their low tuition rate. The other 40 credits are offered by BSU at their current tuition rate.
BSU Metro Area Business Administration Transfer Guide
For more information, please visit the Bemidji State University MABA site.
*Textbooks must be for spring 2018 BSU MABA courses, and must be purchased from the BSU Bookstore (online or in-person).
There are four ways to ensure your place in the Metro Area Business Administration program at ARCC.

Students currently enrolled at Anoka-Ramsey will need to submit an application to Bemidji State University, and declare your interest in the MABA program to the BSU office on the campus of Anoka-Ramsey Community College (C252A).
Graduates with an A.S. in Business at Anoka-Ramsey will need to submit an application to Bemidji State University, and declare your interest in the program to the BSU office on the campus of Anoka-Ramsey Community College (C252A, or email mcerickson@bemidjistate.edu).
Graduates with an A.S. in Business from other community colleges will need to submit an application to Bemidji State University and declare your interest in the program to the BSU office on the campus of Anoka-Ramsey Community College (C252A, or email mcerickson@bemidjistate.edu).
New students will need to apply to both Anoka-Ramsey Community College and Bemidji State University, and declare your interest in the MABA  to the BSU office on the campus of Anoka-Ramsey Community College (C252A).

Students with at least 24 college credits will be considered for admission to BSU's distance learning program. New students are advised to work closely with both ARCC and BSU advisors for appropriate course selection and academic planning.

Granted by Bemidji State University, a Bachelor of Science degree in Business Administration is now available at the Anoka-Ramsey Community College Coon Rapids Campus. 

Twenty renewable scholarships are available for business administration students, ranging from $300 per year to $3000 per year.

Business administration is one of the most popular fields of study because it prepares you for a wide variety of career options. Organizations of all types (private, public, nonprofit, and governmental) are looking for graduates with degrees in business administration to help them create and manage successful organizations.

Career Services, an office within the Department of Business Administration at Bemidji State University, is dedicated to helping individuals arrange interviews, locate challenging internships and find rewarding careers. 

Supervisor
Department/Division Manager
Agency Director
Operations Manager
Project Manager
Small Business Manager/Owner
Entrepreneur
Manager of Non-Profit Organization
Supplementary Information
Ask Anoka-Ramsey

Contacts