Spring Semester 2022 Begins January 10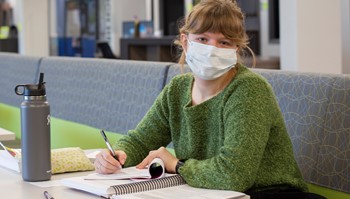 December 21, 2021
Spring semester begins Jan. 10. Here's what you can expect for a successful semester. 
Course Delivery
Below are the formats classes may be offered for spring semester 2022:
Seated on campus: class will be on campus full-time.
Hyflex or blendflex: classes offer flexibility between online and face-to-face participation. May use asynchronous or synchronous online format.
Hybrid or blended: class might have both in-person and online parts.
Mostly online: class is nearly all online, but may have up to two required on campus activities or meetings.
Completely online synchronous: the class is online, and you don't have to come to campus, but there are still class meetings (online) you'll need to attend each week.
Completely online asynchronous: the class will be taught online, and there are no class meetings. Get your work done each week on your own time.
More information about course delivery methods can be found here http://www.anokaramsey.edu/course-delivery/
Course Schedule and Descriptions
Changes to the schedule
There may be changes to the schedule as room capacity and other CDC or MDH recommendations occur. If there is a change to a course for which you are registered, you will receive a notice of a change. This notice unfortunately will not indicate what change occurred or for what class. Please print or save your original schedule to help you identify the change that was made.  
Additional videos to help you navigate online courses, your student eServices account, and more can be found here.
Course Delivery Methods (on-campus, online synchronous, online asynchronous, etc.)
Dropping vs. Withdrawing from a Course
How to Navigate eServices
How to Search and Register for Courses
How to Access and Review your Degree Audit Report
Minnesota Transfer Curriculum (MnTC)
Satisfactory Academic Progress (SAP)
Student Services
Many services are now available in-person, with some making walk-in hours available. Others can be accessed over the phone or via virtual meeting. Connect with resources and learn more.
On-Campus Safety
All employees will be required to show proof for full vaccination against COVID-19 or be tested at least weekly. COVID-19 vaccines are not currently required for students; however, students are strongly encouraged to complete a COVID-19 vaccination series as soon as possible to protect the health of individuals and the campus community. Learn more about COVID-19 vaccination, testing and prevention.
To further support safety and hygiene practices, hand sanitizer stations and disinfectant tools will be readily available on campus.
Building access will be limited and available only through designated doors during designated hours. 
Classrooms will be scheduled and equipped to allow for staggered entry and exit on campus, and to meet current guidance on gathering size and social distancing.
Review On-Campus COVID Safety Policies
Technology Access
We're committed to providing students access to the technology needed to succeed.
The Office of Information Technology (OIT) is here to support students with the equipment, software and internet access needed for successful learning.
Students in need of technology to continue their education should complete a ARCC/ATC Student Loaner Request. Once completed someone from ARCC/ATC OIT department will connect to help determine what equipment will best fit your needs.

Complete a Student Computer Loaner Request 
Self-Service Technology Resources and Tutorials
Resources for Support
Managing closures, postponements and rules regarding our public health can be stressful. Navigating changing employment or benefit status, food insecurity, childcare fluctuations and dozens of other challenges can make it difficult to focus on academics.

Basic Needs Resources
Supplementary Information
Recent News

Anoka-Ramsey In The News

Contact Us

Marketing & Public Relations

Media Relations Contacts: Mary Jacobson & Fia Prpic