Out of This World: Vibrant Student Life Offers Astronomical Opportunities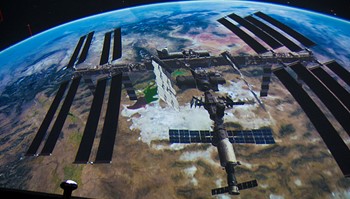 January 10, 2018
An article from the Winter 2018 Issue of the Anoka-Ramsey Community Newsletter

One of many active student clubs at Anoka-Ramsey, the Astronomy Club took students and guests out of this world with a visit from the Exploradome. Dubbed a 3-D interactive atlas of the universe, the touring exhibit from the Bell Museum invites people inside an inflatable dome where they view imagery of the stars, constellations, planets and other galaxies.
"Ever since I was a kid, I thought stars and planets were pretty cool," said Elatia Zaffke, club president and a U.S. Navy veteran. "As I continue to learn about outer space, I find it more and more fascinating."
Zaffke worked with other members of the club, including Sean Oseid and Andrew Bluth, to present four hours of astronomy and science sessions to visitors. Session topics ranged from a planetary tour of the solar system to the possibility of life in the universe.
(Pictured is a display of the International Space Station, as viewed from inside the Exploradome. Photo by Cassandra Bauer.)
Supplementary Information
Recent News

Anoka-Ramsey In The News

Contact Us

Marketing & Public Relations

Media Relations Contacts: Mary Jacobson & Fia Prpic