Music Department heralds spring with March concert pairing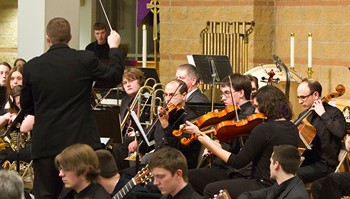 February 14, 2018
An annual college event, the All-Ensemble concert is celebrating more than 50 years of the Anoka-Ramsey Music Department. The event will feature eight different ensembles performing musical works, ending with all ensembles performing the Anoka-Ramsey school song "SPIRIT" by former Music Faculty member, Richard Perkins. The event is open to the public and will take place Thursday, March 1 at 7 pm at Faith Lutheran Church in Coon Rapids.
Eunice Kim, the newest member of the St. Paul Chamber Orchestra, will visit Anoka-Ramsey on Friday, March 23 in the Music Building, Rm M109. This event is part of a guest artist series and includes both a question and answer session at 5 pm, and a concert at 7 pm. Kim, accompanied by guest pianist Timothy Lovelace, will feature works by Piazzolla, Biber, Hsu and Franck.
Anoka-Ramsey All-Ensemble Concert
Thursday, March 1
7 pm
Faith Lutheran Church
11115 Hanson Blvd NW
Coon Rapids, MN
Anoka-Ramsey Guest Artist Series:
Eunice Kim of the St. Paul Chamber Orchestra
Friday, March 23
Question and Answer Session: 5 pm
Concert:7 pm
Anoka-Ramsey Community College
Music Building, Rm M109
Coon Rapids Campus
For more information about the Music Department at Anoka-Ramsey Community College, visit AnokaRamsey.edu/Academics/Departments-Faculty/Music/.
ABOUT ANOKA-RAMSEY COMMUNITY COLLEGE
Anoka-Ramsey Community College, with campuses in Cambridge and Coon Rapids, is a member of the Minnesota State system and has been a leading provider of higher education and training in East Central Minnesota since 1978 and the north suburban area of Minneapolis/St. Paul since 1965. Anoka-Ramsey Community College was recognized as one of the Top 10 community colleges in the U.S. for 2017 by The Aspen Institute. Annually, the college serves more than 12,500 learners of all ages as they pursue associate degrees that transfer as the first two years of a bachelor's degree, or certificate programs that lead immediately to rewarding careers. Anoka-Ramsey Community College is aligned with Anoka Technical College and together the institutions serve more than 16,000 learners–the largest community and technical college entity in Minnesota. An affirmative action, equal opportunity employer and educator. Accredited by the Higher Learning Commission. This document is available in alternative formats to individuals with disabilities by calling the Minnesota Relay Service at 1-800-627-3529.
Supplementary Information
Recent News

Anoka-Ramsey In The News

Contact Us

Marketing & Public Relations

Media Relations Contacts: Mary Jacobson & Fia Prpic