Memorial Hospital continues support for Cambridge Campus Nursing students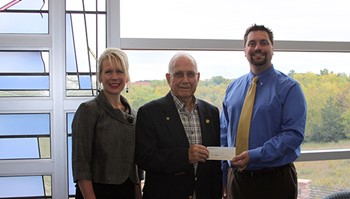 November 04, 2016
Ray Magnuson, representing the Memorial Hospital Foundation, recently presented Anoka-Ramsey Community College Cambridge Campus with a $25,000 check for nursing scholarships at the Cambridge Campus. This marks the 16th year the hospital has donated to the college.
Cambridge Memorial Hospital Foundation has contributed $25,000 or more annually since 2003. Collectively, the hospital has donated more than $400,000. 
"Memorial Hospital opened in 1956 and surpassed the challenges that come with being a new hospital," said Ray Magnuson, Memorial Hospital Foundation Board Member. "The hospital has supported Cambridge and the surrounding communities for 37 years, offering a variety of medical services."
The Cambridge Memorial Hospital Foundation's mission is to support health and wellness related activities and projects in East Central Minnesota, including Isanti county and the surrounding communities, by providing financial support to local schools, government entities and eligible non-profit organizations. 
"I thank the Memorial Hospital Foundation for their commitment to education and for making a difference in the lives of future nurses," said Jamie Barthel, Cambridge Campus Foundation Executive Director. "Receiving a scholarship is often a life-changing experience for the student. It helps the student financially but it also shows the student that the community has faith in them and their success. This faith has a lasting impact."
Anoka-Ramsey's nursing program is a member of the Minnesota Alliance for Nursing Education (MANE) consortium. The Nursing program admits 112 students every semester, with a graduation rate of 85 percent or higher. Since implementing the MANE curriculum, the program has seen even higher graduation and completion rates, including successful board certifications for students.
Nursing students who reside in one of the original communities of the Memorial Hospital Foundation have an opportunity to receive a $1,500 scholarship. The Anoka-Ramsey Cambridge Campus Foundation Scholarship deadline was Oct.15 for the 2017 Spring Semester.
For more information about Anoka-Ramsey Community College Nursing Department visit: AnokaRamsey.edu/academics/departments-faculty/nursing/
Supplementary Information
Recent News

Anoka-Ramsey In The News

Contact Us

Marketing & Public Relations

Media Relations Contacts: Mary Jacobson & Fia Prpic