Creative writing certificate now available at Anoka-Ramsey Community College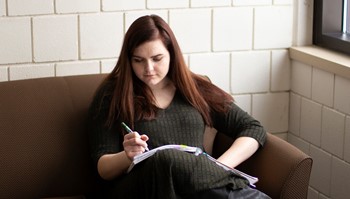 March 11, 2020
Beginning spring 2020, students at Anoka-Ramsey Community College can work towards a certificate in Creative Writing.
"Anoka-Ramsey Community College's Creative Writing certificate offers students an in-depth opportunity to study creative writing with talented teachers who are also published authors," said Kathryn Kysar, instructor and college Creative Writing subcommittee co-chair. "Students enhance their public speaking, analytical thinking, written and verbal communication skills, and teamwork and editing abilities while exploring the literary genres of their choice in workshop-style classes. Students graduate from the program with resumes and portfolios showcasing marketable skills for all careers."
The Creative Writing certificate is a 19-credit program. It can be taken concurrently with an Associate of Arts (AA) degree or as a stand-alone certificate. Through the program, students have several choices about which classes to take and can tailor the program to their unique interests.
"It's not a full degree of classes that you have to take and if you are still figuring out what you want to do, just go for this," said student Rylie Erickson. "If you like writing, just go for it. It's a smart route."
The certificate is designed to help students explore the options available to creative writers or provide additional value to enhance other degrees.
"Being in creative writing, it shows you the different genres and styles of writing – short story, fiction, non, poetry, etc. I was able to experience all of them and learn what I liked which was cool," student Kayla Worcester said.
The program includes courses like "A Writer's Life: Paths to Publication," which "gives students the tools they need to become professional writers," according to Kysar. "Manuscript Development" which lets students work one-on-one with a published writer to create polished manuscripts.
"We wanted to offer our students a flexible, less intensive option to our Associates of Fine Arts (AFA) in Creative Writing degree as well as serve our surrounding community with a non-degree option," Kysar added. "The certificate may be especially appealing to seniors, educators or professionals who'd like more training in creative writing."
The program also aims to provide flexibility. All classes are offered online, on campus, or in any combination to accommodate students' learning styles and schedules.
"I think it opens your eyes to a different view of the world and what you can create for yourself," added Worcester.
For more information on the Creative Writing certificate visit AnokaRamsey.edu/academics/degrees-diplomas-certificates/diplomas-certificates/creative-writing/
To learn more about the English department and courses visit AnokaRamsey.edu/English
Supplementary Information
Recent News

Anoka-Ramsey In The News

Contact Us

Marketing & Public Relations

Media Relations Contacts: Mary Jacobson & Fia Prpic