'Coral Bleaching' artwork featured in ARCC Newsletter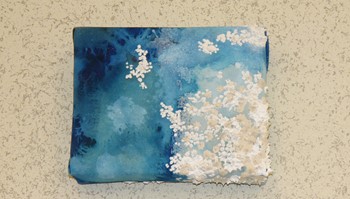 January 10, 2018
An article from the Winter 2018 Issue of the Anoka-Ramsey Community Newsletter

The cover art features a painting by Grace Simonson, entitled "Coral Bleaching IX," pictured below. As part of a series called "Coral Bleaching," the painting was displayed in an exhibit at the Professional Workforce Training Center, along with more than ten of the student's paintings. "Coral Beaching II," pictured above, is another example of the artwork in the series. Simonson is studying in the Associate of Fine Arts degree program at Anoka-Ramsey Community College.
Simonson used a combination of acrylic paint, textured medium and bleach, to create the series on "Coral Bleaching." She described her inspiration and the goal of the series in her Artist's Statement.
Artist's Statement:
"Coral bleaching creates an eerie and awkward whiteness in the deep blue ocean, like a ghostly effect, where colored algae used to live, but have left the coral white due to changing environmental conditions. I experimented with different variables of bleach and acrylic to recreate this awkwardness under the sea on canvas along with different texture mediums to represent ghostly coral-like forms. I am trying to bring awareness to the coral bleaching issue through my paintings.
Supplementary Information
Recent News

Anoka-Ramsey In The News

Contact Us

Marketing & Public Relations

Media Relations Contacts: Mary Jacobson & Fia Prpic