College welcomes visiting ceramic artist Matthew D. Krousey on Nov. 29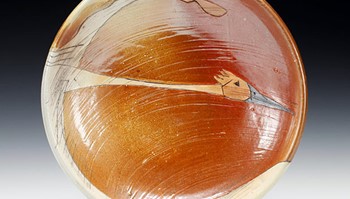 November 15, 2017
The public is encouraged to join Anoka-Ramsey Community College in an engaging workshop and discussion with ceramic artist Matthew D. Krousey, Wednesday, Nov. 29, 9 am to 3 pm in the Coon Rapids Campus Visual Arts Center. No reservations are necessary. Drop in at any time, or stay for entire event.
Matthew D. Krousey is currently a working artist with a studio in Harris, Minn. He holds a Bachelor of Fine Arts from the University of Minnesota and has taught beginner wheel, intermediate and advanced wheel, and soda firing methods at several colleges and arts centers.
Krousey's work can be found in galleries in Chicago, St. Paul, Minn., Minneapolis, Minn., and Little Falls, Minn., as well as in public and private collections throughout the Midwest and at the Sanbao Ceramic Institute in Jingdezhen, China. His work has also appeared in Ceramics Monthly and Clay Times publications.
Krousey was honored with a Jerome Project Grant in 2014.
Statement from the Artist
"I make pottery, sculpture and murals decorated with the landscapes, flora, and fauna of Minnesota and see myself as a modern day regionalist working with clay. For millennia, imagery on pottery has been used by endless cultures to document the world that they were living in. I too am using this medium to document the world I know. The imagery is made from a combination of slips, stains and glazes. I primarily use ash glazes, as its main ingredient comes from the very landscape I am drawing inspiration. The pots are created from stoneware and often altered in the wet stage, then fired in a soda kiln. This firing process not only creates a very durable object, it imbues the work with great variation and depth, creating a natural and mysterious surface of a warm and earthy palette. My hope is that the daily use of my pots will be a gentle reminder to the public of the vanishing natural world around us."
For more information about Krousey, visit: http://mkrouseyceramics.com/
For more information about visiting artists at Anoka-Ramsey Community College, visit: AnokaRamsey.edu
Supplementary Information
Recent News

Anoka-Ramsey In The News

Contact Us

Marketing & Public Relations

Media Relations Contacts: Mary Jacobson & Fia Prpic