College welcomes new STEM Dean Mary Johnson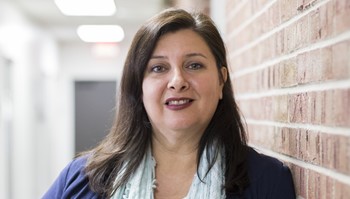 May 03, 2017
Anoka-Ramsey Community College is excited to welcome a new Science, Technology, Engineering and Mathematics (STEM) Dean Mary Johnson.
Johnson is originally from Nebraska and has worked in higher education for many years. She holds a bachelor and master's degree in English from the University of Nebraska-Lincoln. She is on track to complete her doctorate degree in education with a focus in higher education administration and leadership in 2018.
Prior to Anoka-Ramsey, Johnson taught at the University of Texas in San Antonio and then at the University of South Dakota. Most recently, she worked in administration at Nebraska Indian Community College (NICC) in Macy, NE, a tribal college located on the reservation where her father is from.
"I am excited to be working in an environment with a larger group of peers and to figure out how we can develop new programs and improve our existing ones," said Johnson. "I am so happy to be here and look forward to working in a college with a much higher enrollment than I've been used to previously. I am very grateful to have the opportunity to excel in this position."
Johnson is looking forward to working on the STEM initiatives at Anoka-Ramsey, and to experiencing the collaboration Anoka-Ramey has with the state government within the Minnesota State system.
For more information about Anoka-Ramsey Community College and the award-winning faculty, visit AnokaRamsey.edu.
Supplementary Information
Recent News

Anoka-Ramsey In The News

Contact Us

Marketing & Public Relations

Media Relations Contacts: Mary Jacobson & Fia Prpic