College Art instructors featured in Stillwater Art Guild Gallery series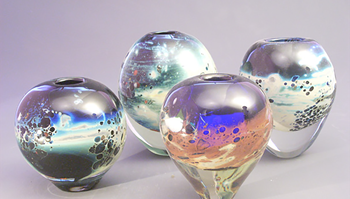 April 13, 2017
Anoka-Ramsey Community College Art instructors, Erick Wiger and Nikki Schneider are being featured in the Five Artists: Decades of Art series at the Stillwater Art Guild Gallery, April 2 through April 29.
With the goal to highlight the work of local artists, the series features a variety of fine and decorative arts in various mediums and styles.
In the series, Wiger displays ceramics and blown glass. The blown glass is an assortment of sculptural bottles and vases with unique applied textures and bold color designs.
"The unifying characteristic of my work is the use of organic forms and designs," said Wiger.
Schneider has wood cut and engraved prints on display in the series.
"My work offers whimsical views of natural and human life," said Schneider.
The series offers work from other local artists with work ranging from watercolor paintings to sculpted bowls, urns and jars.
For information on the Stillwater Art Guild Gallery, visit artguildgallery.com
For more information on Anoka-Ramsey Community College's Art Department, visit anokaramsey.edu/academics/departments-faculty/art/
Supplementary Information
Recent News

Anoka-Ramsey In The News

Contact Us

Marketing & Public Relations

Media Relations Contacts: Mary Jacobson & Fia Prpic