College Art instructor Laura Migliorino awarded a Fellowship in Rome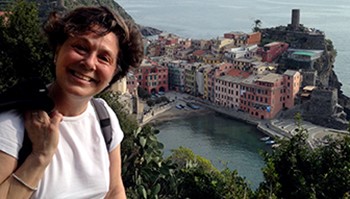 March 17, 2017
Anoka-Ramsey Community College Art instructor Laura Migliorino recently was awarded the Community College Humanities Association (CCHA) Fellowship at the American Academy in Rome.
The one-month fellowship begins in June and will allow Migliorino to continue her work on "The Book as the Foundation of Humanities Education," by studying relevant books from the Rare Book Collection at the academy. She will then integrate critical texts from the collection into her curriculum.
The following is an excerpt from Migliorino's fellowship application:
"The updating of curriculum is the focus of my upcoming sabbatical and will allow me to formalize something I already do informally. I use books as anchors in all of my classes, they are markers or points on a timeline that deepen and enhance the material in both Art History and studio courses . . . The access to Rare Book collection from a scholarly perspective will impact my teaching and what I learn will be shared with students, and fellow faculty."
Migliorino has been teaching at Anoka-Ramsey for nearly 30 years and has subject-matter expertise in studio art design, photography, drawing and art history.
"Laura is a proven leader at Anoka-Ramsey as the key architect in building our Art Department from a small two faculty program, to vibrant six faculty program on two campuses," said Anoka-Ramsey English instructor Kathryn Kysar in her letter of recommendation for Migliorino. "Our visual arts program attracts students from all over the region and has helped establish our college as a center for the arts and humanities. Laura's diligent work has resulted in a new state-of-the-art visual art center that opened in 2010 and an AFA in Art degree celebrating its 10th anniversary this year. "
For more information about Migliorino visit, www.lauramigliorinoart.com. For more about the Arts programs at Anoka-Ramsey Community College, visit AnokaRamsey.edu
Supplementary Information
Recent News

Anoka-Ramsey In The News

Contact Us

Marketing & Public Relations

Media Relations Contacts: Mary Jacobson & Fia Prpic