Celebrating innovation in training, student success and community impact at the State Capitol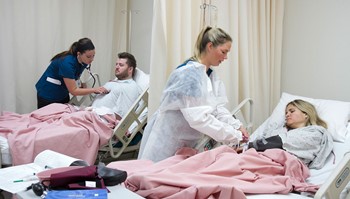 January 25, 2019
On Tuesday, Jan. 29, 2019 Anoka Technical College and Anoka-Ramsey Community College are participating in Minnesota State Day at the Capitol.
The event brings together legislators, trustees, presidents, students, faculty and staff to highlight the success of students, the impact Minnesota State schools have on the community and the exceptional curriculum provided to students.
Minnesota State is requesting $169 million from the FY2020 – FY2021 legislative budget. This request is focused on serving current and future students, protecting the system's commitment to affordability, and building capacity for innovation. It represents a critical investment in the success of students.
Of the total request, $7.3 million would directly support Anoka Tech and Anoka-Ramsey to enhance classrooms and laboratories to reflect industry trends, provide crucial funds to repair aging facilities and increase necessary student support services.
In addition, a $6.4 million capital request is being made to support repair and modernization to facilities at both colleges. This includes the Nursing and Business building, one of the oldest buildings on Anoka-Ramsey's Coon Rapids Campus.
The upgrade is intended to bring the nursing program facilities to the same high standard as the curriculum and help reach even more students. Anoka-Ramsey and Anoka Tech have been meeting the demand for highly-skilled nursing graduates by incorporating training through live actor, high-fidelity simulations.
At the event on Jan. 29, Anoka-Ramsey nursing students and faculty will be on site to illustrate some of the advancements that have been made in teaching the technical and interpersonal skills needed to be successful in the nursing career field.
"As nursing acuity and expectations grow and the availability of specialty clinical sites decline, the need to provide Minnesota Board of Nursing approved clinical experiences to students has become a priority concern," said Sandra Kohler, dean of nursing and allied health at Anoka-Ramsey, "It is especially important to provide students hands-on experiences for situations they may face in their career that are high-risk, but not often encountered. The utilization of live actor, high fidelity simulation has become a key tool in the education of nursing students."
You can join us for Minnesota State Day at the Capitol. The event will take place in the Minnesota State Captiol rotunda from 2:30 to 4 pm on Tuesday, Jan. 29, 2019. 
Supplementary Information
Recent News

Anoka-Ramsey In The News

Contact Us

Marketing & Public Relations

Media Relations Contacts: Mary Jacobson & Fia Prpic