Anoka-Ramsey's upcoming production of He Said & She Said hits stage March 1 - 4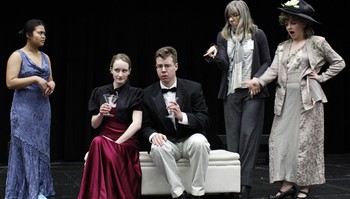 February 07, 2018
Anoka-Ramsey Community College will showcase their students' hard work in the winter production of He Said & She Said by Alice Gerstenberg. The play will hit the Cambridge theatre's stage March 1, 2, and 3 at 7:30 pm, with a matinee showing on March 4 at 2 pm. 
"I like to find different genres of shows and plays that take place in different time periods so Anoka-Ramsey students get a chance to work on a variety of styles." said Lisa Weaver, the play's director and Anoka-Ramsey theatre instructor, "Last year, the show was a contemporary play set in the 1960s. He Said & She Said is a comedy of manners written in the 1920s and set during WWI.  We are also incorporating cast members and some music students into the show with a musical interlude of songs from the time period", said Weaver. "That has been really fun! My hope is to bring a light and breezy romp to the campus in the middle of a cold winter!"
Tickets are available to the general public for $8. March 4 is Senior Sunday, with tickets on sale for $5. Tickets may be purchased at the Cambridge Campus Bookstore, or at the box office prior to showtime.
More about He Said & She Said
In He Said & She Said, Enid invites two friends, Mrs.  Packard and Diana, to dine with her and her husband Felix. However, upon arriving, Mrs. Packard has a piece of gossip for Enid about Diana that threatens to ruin the night and to end friendships. As this gossip gets rolling, characters rarely get a chance to finish their thoughts or say exactly what they mean, making other characters assume the worst and relate a version of the story more twisted than the last. A comic and cautionary tale, the musical reveals the damage that rumors and gossip often create. 
He Said & She Said production
March 1, 2, and 3 at 7:30 pm; and
March 4, 2018 at 2 pm
Anoka-Ramsey Community College
Cambridge Campus Peterson Community Room (G202)
Tickets: $8 for the general public, $5 for seniors on March 4
For more information about the production or the Theatre Department at Anoka-Ramsey Community College, visit: AnokaRamsey.edu/academics/departments-faculty/theatre/ 
ABOUT ANOKA-RAMSEY COMMUNITY COLLEGE
Anoka-Ramsey Community College, with campuses in Cambridge and Coon Rapids, is a member of the Minnesota State system and has been a leading provider of higher education and training in East Central Minnesota since 1978 and the north suburban area of Minneapolis/St. Paul since 1965. Anoka-Ramsey Community College was recognized as one of the Top 10 community colleges in the U.S. for 2017 by The Aspen Institute. Annually, the college serves more than 12,500 learners of all ages as they pursue associate degrees that transfer as the first two years of a bachelor's degree, or certificate programs that lead immediately to rewarding careers. Anoka-Ramsey Community College is aligned with Anoka Technical College and together the institutions serve more than 16,000 learners–the largest community and technical college entity in Minnesota. An affirmative action, equal opportunity employer and educator. Accredited by the Higher Learning Commission. This document is available in alternative formats to individuals with disabilities by calling the Minnesota Relay Service at 1-800-627-3529.
Supplementary Information
Recent News

Anoka-Ramsey In The News

Contact Us

Marketing & Public Relations

Media Relations Contacts: Mary Jacobson & Fia Prpic