Anoka-Ramsey's spring theater production, Our Town opens April 19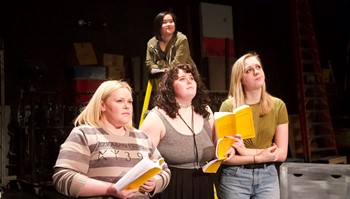 April 15, 2019
Anoka-Ramsey Community College's production of Our Town by Thornton Wilder is opening Friday, April 19. With shows scheduled for April 19, 20, 25, 26, and 27 at 7:30 pm at the Anoka-Ramsey Coon Rapids Campus Performing Arts Center, Our Town will showcase the talents of Anoka-Ramsey students.
"Our Town is a celebration of our daily lives into a theater production," said Blayn Lemke, the play's director and an Anoka-Ramsey Theatre instructor. "I hope the audience will see the importance of life and take away many meaningful life lessons prior to the performance. I am excited to see these talented students showcased and make the story come into life."
Our Town is a story about the daily lives, loves and challenges of residents in the fictional town of Grover's Corner New Hampshire. The play tells the story of residents in this small rural town between the years 1901 – 1913. The action in Our Town celebrates the significance of life's commonly overlooked experiences – the discovery of first attraction that can occur when walking home from school together, the important moments missed as we share a hurried breakfast together before beginning our day or the joyous anticipation of an excitable wedding guest as they wait for a bride to make her walk down an aisle. Thornton Wilder uses everyday experiences and adds to them a mastery of language, character and conflict to create a play celebrating our shared humanity and the beauty in daily life.
Our Town Production Information
April 19, 20, 25, 26, and 27│7:30 pm
Anoka-Ramsey Community College Coon Rapids Campus Performing Arts Center
$8 to the general public
Tickets are available online, by calling the Coon Rapids Campus bookstore at 763-433-1250 or at the door one hour prior to performances.
For more information about the production of Our Town, or the Theatre Department at Anoka-Ramsey Community College, visit: AnokaRamsey.edu/academics/departments-faculty/theatre
Supplementary Information
Recent News

Anoka-Ramsey In The News

Contact Us

Marketing & Public Relations

Media Relations Contacts: Mary Jacobson & Fia Prpic