2018 Athletic Hall of Fame Ceremony honors star athletes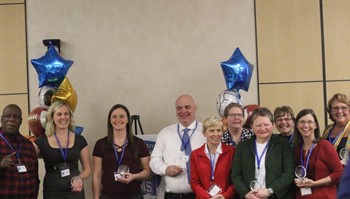 February 27, 2018
For the third year, Anoka-Ramsey Community College celebrated star athletes with an Athletic Hall of Fame Ceremony in mid-February. The event is intended to connect exceptional alumni athletes to the current Anoka-Ramsey Community College's community.
The Athletic Hall of Fame was initiated in 2016 to honor athletes, coaches and community members who have made meaningful contributions to Anoka-Ramsey Golden Rams athletic programs.
Inductees for the 2018 Hall of Fame were:
1975 Anoka-Ramsey Community College Volleyball Team
James Bebeau
Jordan "Noska" Hageman
Walter Ross
Alexis "Bradseth" Swenson
"Through the process of selecting the exceptional alumni athletes to be inducted in the Hall of Fame and planning the induction ceremony, the committee is maintaining and building relationships with alumni and the community. This is something we haven't had the resources to do before the tradition of the Hall of Fame," said David Alto, Anoka-Ramsey athletics director.
" President Kent Hanson has a passion for the Hall of Fame event, and his leadership in helping the department get everything up and running this year has played a vital role in making the Hall of Fame an Anoka-Ramsey athletic tradition," Alto concluded.
For more information about Anoka-Ramsey Community College Golden Rams Athletics, visit ARCCGoldenRams.com.
To submit an exceptional alumni athlete for next year's Hall of Fame visit: ARCCGoldenRams.com/Information/Hall_of_Fame_Nomination_Form
Supplementary Information
Recent News

Anoka-Ramsey In The News

Contact Us

Marketing & Public Relations

Media Relations Contacts: Mary Jacobson & Fia Prpic