Cost & Aid

Take advantage of the lowest college tuition in Minnesota
Last Day to Add/Drop Classes

Financial Aid Disbursement
How Much Will College Cost?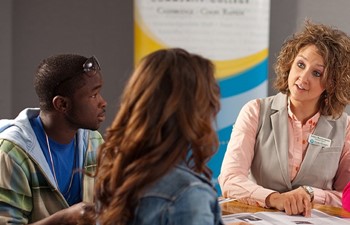 Over half of Anoka-Ramsey students receive grants or scholarships. You could be one of them!

Learn more about the many ways to cover the costs of tuition, fees and books, including:
*Counting on financial aid to help cover tuition costs? Apply early! You can submit your FAFSA form even before you've been accepted for admission – and that will improve your chances of getting aid on time to register for classes. Contact us if you need help completing your FAFSA.
Financial Aid: 763-433-1500
Business Office: 763-433-1600
Scholarship Office: 763-433-1130
Meet Our Students and Alumni
Student Carousel
Carousel Navigation
Carousel Slides
Meet Aaron Becker

Aaron Becker

Arts & Communication

AFA Art

"I love the Art program at Anoka-Ramsey, and they have the best staff. The faculty make you feel good about the path you're taking, and the college has scholarship programs to help out financially."

Meet Jeanne Wigant

Jeanne Wigant

Natural Sciences

Biological Science

"Scholarships relieve some of the financial burden associated with getting a college degree, and at Anoka-Ramsey they can cover nearly a student's entire tuition. Scholarships also reinforce a student's belief in themselves, knowing that others identify [him/her] as a promising student, worthy of receiving the scholarship."

Meet Yelizaveta Babashova

Yelizaveta Babashova

MnTC

AA Communication Studies Emphasis

"One thing I want people to know about Anoka-Ramsey is that just because it's a community college, doesn't mean that you're getting any less of an education than you would at a big university. The professors are wonderful and classes are challenging. You really feel like you're getting an education that's worthwhile."
Carousel Pagination