Profile - Karl Wielgus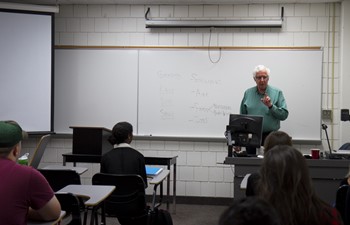 Instructor Profile
Meet Karl Wielgus
Instructor of Sociology
Doctor of Philosophy (PhD), Columbia University; Bachelor of Arts (BA), Roosevelt University
Question and Answer
Question

Would you list some recent accomplishments?

Answer

Woodrow Wilson Fellowship, 1966

NIH Research Fellowship, 1970

Question

What is your approach to teaching?

Answer

In my classes, the overall objective is to promote practice and use of Sociological knowledge and methods for understanding the processes in daily life. This will often entail working with what is familiar and helping to develop a framework for analyzing and understanding what is familiar. A secondary goal is to enable students to engage with alternate frameworks and models to understand life in society and, as a result, increase the ability to critically engage with routine practices and assumptions.-

Question

What inspires you as a teacher?

Answer

I have been fortunate in having many teachers as role models. One, in particular, is worth mentioning. Helena Z. Lopata nurtured and helped me develop a spirit of inquiry about social processes and engaging in analysis of it. She made the field of Sociology and the profession a path for illuminating our lives and the possibilities of our lives.

The second person who deserves mention is Peter McHugh who helped me to understand that in the most ordinary moments of interactions, human beings create both structures they live with and the sense of identity that they hold onto.

Question

How would you describe what happens during one of your most successful classes?

Answer

Routine and ordinary events come to seen in a new light, and students come to be able to know the ways that their daily actions produce the structures they live with. Secondly, the world they take for granted is worthy of close attention, and it is possible to imagine alternative ways for things to be.

Question

What makes your curriculum interesting or valuable to students?

Answer

One of the more valuable matters for students to engage in is the realization of the qualities that they assume are inevitable can be understood as options. The other important matter is the appreciation that in daily life the question of what is good, moral, what is required and established may be more a result of social convention and acceptance of group opinion than an actual engagement with the question of the good or the desirable. Habit and custom can make anything right. Realizing this is a powerful learning.

Question

How do you think students describe your teaching methods and classes?

Answer

Some find it engaging, some find it tedious. I sense that the students who want certainty and step by step guidance find my classes confusing and uncomfortable.

Question

What are some ways that you help students succeed when they need extra help?

Answer

I respond to all such questions and take any work they do, provide feedback and discussion with them on ways to improve what they write. I tend to not make absolute judgments on work but try to particularize praise or criticism to encourage more engagement.

Question

How do you help your students get the most out of your class?

Answer

By the involvement of the course, I focus on the everyday and typical events and experiences that the students live with. Connecting the big questions about social structure with the everyday interactions they live with is essential.
Fun Facts
Fun Fact #1

I have had a lifelong interest in music and have played various instruments. I was once a music major. I still play piano, used to play the cello and for about 12 years was a drummer in various bands.

Fun Fact #2

I became a different person when I realized I could cook, and since that discovery at age 24, I have explored world cuisines and find new forms of cooking, spicing and preparation. I enjoy preparing food to eat rather than buying pre-cut, pre-diced, pre-assembled dishes.

Fun Fact #3

I am a very long-winded talker. To balance my life and behavior, I have gradually incorporated some meditative practices into my daily routine. In the last ten years, this change has freed me from issues, such as boredom and impatience, and I find myself relishing the minutes, hours and days I am living.
Meet Our Students and Alumni
Student Carousel
Carousel Navigation
Carousel Slides
Meet Behram Radmanesh

Behram Radmanesh

MnTC

Associate in Arts

"Anoka-Ramsey was affordable, had good resources and excellent professors. Be sure to make use of the tutoring center!"

Meet Bukola Oriola

Bukola Oriola

MnTC

Associate in Arts

"The advisors and counselors were very useful to me. The Tutoring Center was also a tremendous help. As a tutor at the Cambridge Campus, I enjoyed the warmth and support of the center as I helped other students to succeed in their writing."

Meet Cody Laberda

Cody Laberda

MnTC

Associate in Arts

"AR was a great place to start for me. They offered great art classes, which was something I was seriously considering after high school. Also, the year I started was the first year they formed a men's collegiate soccer team/program, so I tried out and made the team.

Anoka-Ramsey offers opportunity; opportunity with the best-looking community college and location in the state.

My experience in the Multicultural Club was awesome. There were so many students I met from all over the world. It was amazing. I thoroughly enjoyed the club as well as the many field trips we took including the one at the convention center, Festival of Nations."
Carousel Pagination