Profile - Penny Rivard-Sherman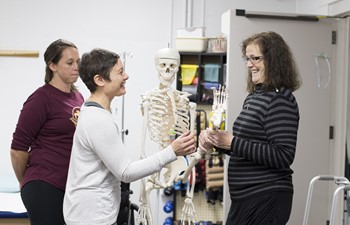 Instructor Profile
Meet Penny Rivard-Sherman
Instructor of PTA
Master of Arts (MA) in Education, St. Catherine University; Bachelor of Arts (BA) in Physical Therapy, College of St. Scholastica
Question and Answer
Question

What is your approach to teaching?

Answer

I use a variety of teaching methods in my classes in order to accommodate all types of learners.

Question

What inspires you as a teacher?

Answer

I'm inspired by my students. I love standing in front of the classroom and looking out over the class and seeing the light bulbs flicker when they are starting to understand the material. That's what motivates me as a teacher.

Question

What are some ways that you help students succeed when they need extra help?

Answer

Students are always welcome to make an appointment with me to review material. Our program also has several things in place to help students: mentoring program, review sessions, study groups, and tutoring.

Question

How do you help your students get the most out of your class?

Answer

I try to incorporate active learning activities throughout class periods so students aren't sitting there listening to a lecture for the entire class period. I try to make learning fun to keep students engaged.
Fun Facts
Fun Fact #1

It would not be unusual for you to see me dancing in the classroom.

Fun Fact #2

I was born with polydactyly - an extra finger on each hand.

Fun Fact #3
Meet Our Students and Alumni
Student Carousel
Carousel Navigation
Carousel Slides
Meet Leetha Phommachack

Leetha Phommachack

Nursing RN

AS Nursing

"Anoka-Ramsey offers many tools for students to become successful in their journey of higher education. I really appreciated the amount of support there is for non-traditional students such as myself."

Meet Andrew Sandahl

Andrew Sandahl

MnTC, Engineering

AS Engineering

"I chose Anoka-Ramsey to fulfill generals and core electives for an electrical engineering degree, to keep overall tuition inexpensive, and to stay close to home. The pre-engineering degree gives beginner engineering students the fundamentals that they need in mathematics, physics, engineering and chemistry. These are crucial to the development they need to build upon when transferring to a university to finish their bachelor's degree."

Meet LaShaunda Newsom

LaShaunda Newsom

Natural Sciences

Biological Science

"Anoka-Ramsey has so many resources and the instructors are very helpful. The majority of my instructors were great but the one that sticks out the most is Jennifer Braido. She's awesome and helpful."
Carousel Pagination