Profile - Shawn Meyer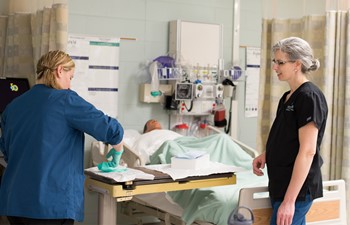 Instructor Profile
Meet Shawn Meyer
Instructor of Nursing
Master of Science (MS) in Nursing Education, Minnesota State University Moorhead; Bachelor of Science (BSN) in Nursing, Minnesota State University Moorhead; Associate of Science (AS) in Nursing, Presentation College
Question and Answer
Question

Would you list some recent accomplishments?

Answer

Nationally Certified in Inpatient Obstetrics and Maternal-Newborn Nursing Care

Question

What is your approach to teaching?

Answer

I love connecting the classroom to clinical experiences. Long-term recollection of learning comes from application of content and concepts to real-life and understanding bottom-line rationales. I do not and cannot know everything, but in promoting a spirit of inquiry in students by asking "why?" and encouraging initiative to find answers, we are life-long learners. It's okay to say, "I don't know, but I can find the answer." We are much more effective as healthcare providers when we can teach the reasons behind cares to work collaboratively with patients/families (Pathophysiology is important!).

Question

What inspires you as a teacher?

Answer

Successfully helping patients and their family members inspires me to teach students to be an advocate. I've gleaned much of how I practice as a nurse and teach from all the excellent nurses and teachers I met along my 27-year journey in nursing. Hearing students who have passed boards and found jobs is what inspires me most in my work.

Question

How would you describe what happens during one of your most successful classes?

Answer

I like putting some humor into class. It's most fun when we all can laugh. I love the creativity and humor of students in role plays. If I can make a concept click or make a real-life scenario for skill practice and "the light bulb goes on," then my efforts were successful. It's the small things.

Question

What makes your curriculum interesting or valuable to students?

Answer

I like to apply what we are talking about to real-life stories that I've experienced to help the content have a greater impact. I'm working on ways to make pathophysiology more hands-on. We are tweaking curriculum just a bit to move some of the on-campus clinical content we've had into the classroom or lab. We are adding some discussion questions for students to collaboratively take a deep-dive into burning questions arising during class. The goal is to promote that spirit of inquiry.

Question

How do you think students describe your teaching methods and classes?

Answer

I get excited about the content and all I have to share, so the short class periods are crammed with material. Interjections of stories may seem as a tangent, but they are very applicable to the content. Questions are very welcome, and if time isn't available in class to answer them, I follow-up on the D2L discussion board or via email or the New Page occurs. I uphold that reading material is the foundation of learning prior to class, and exploration and greater review of the material with application to real clinical practice is the goal. I offer guided notes as a way to delve into the readings. Students feel a lot of work occurs outside the classroom, which is very true. For every hour spent in class, at least 2-3 hours is needed in study outside of class each week, especially for pathophysiology, which is very deep.

Question

What are some ways that you help students succeed when they need extra help?

Answer

I am very approachable. I'm an advocate for students. With good reason, extensions for assignments are definitely possible. I'm willing to meet or answer calls, texts, e-mails essentially at any hour of the day. Together, we explore what the student is currently doing for study, what's working well, and what could help to improve success.

Question

How do you help your students get the most out of your class?

Answer

I really encourage a commitment to work hard in keeping up with reading, asking questions, practicing skills and doing the best each step of the way for this period of time. Nursing school is a challenge, but it's for a reason. Run the race well until it's done. Keep thinking of what your next right step is. Regular review of content and seeking to understand WHY things are is far more effective than cramming and memorization. You need to remember what you're learning long-term for your patients. Keep up with me during class by taking notes on all we cover. If something doesn't make sense, self-advocate and ask questions.
Fun Facts
Fun Fact #1

My husband and I have 7 children (all biological, one-at-a-time).

Fun Fact #2

I've never had a brand new car. I like to drive beaters because if it gets a scratch or a deer jumps into my path, I don't really care. I'm trying to see how many miles I can get on my 2002. So far, 224,000.

Fun Fact #3

I can't see myself leaving bedside nursing care completely. I still work casually at labor and delivery and a hospice house. Birthing and Deathing (non-traumatic) actually have similarities! We don't usually know when each will occur. Both require some work and each has transitions. The body naturally knows what to do, but we tend to fight it. My job is to help people (patients and family) cope and work with what the body is trying to do.
Meet Our Students and Alumni
Student Carousel
Carousel Navigation
Carousel Slides
Meet Ashley Racutt

Ashley Racutt

Allied Health & Nursing

Nursing (MANE)

"Anoka-Ramsey is extremely student-oriented. The faculty and staff set students up for success. The Nursing program challenged me without overwhelming me."

Meet Georgina Minwegen

Georgina Minwegen

Allied Health & Nursing

Nursing

"Anoka-Ramsey has a lot to offer; it has a great atmosphere, great teachers, and great prices! I love the one-on-one interaction between the teachers and the students. The individualized help that the teachers offer makes it easy to excel."

Meet Amanda Morgensen

Amanda Morgensen

Allied Health

Nursing

"Anoka-Ramsey offers low tuition costs and a positive environment from both peers and professors. It is a great place to start courses for a career. Everywhere you look, there is someone willing to help you with your studies."
Carousel Pagination