Profile - Nina Bohrod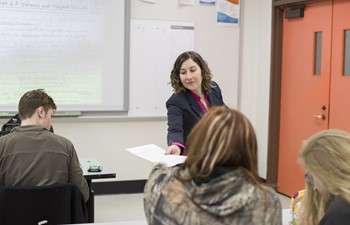 Instructor Profile
Meet Nina Bohrod
Instructor of Math
Master of Science (MS) in Mathematics, Northwestern University; Bachelor of Arts (BA) in Mathematics/Political Science, Wellesley College
Question and Answer
Question

Would you list some recent accomplishments?

Answer

Awards:

ARCC SPOT Recognition

ARCC Academic All-Star

Presentations:

AMATYC Presentation and Video -- "High Anxiety of the Math Variety"
Dewey Lecture -- "Women in Math: History and Hope"
Public Lecture -- "The Fibonacci Sequence in the Real World"
MinnMATYC Presentation -- "Women's March to STEM Equity"



Question

What is your approach to teaching?

Answer

My goal is to meet the individual needs of the students and to use creative ways to make the learning experience interesting and enjoyable.  I hope to illustrate not only the intrinsic usefulness of mathematics but also to pass on a little bit of my own enthusiasm for the study of mathematics and an appreciation of its natural beauty and elegance.

Question

What inspires you as a teacher?

Answer

I am inspired by the many caring and creative teachers I have known that put up with me as a student.

Question

How would you describe what happens during one of your most successful classes?

Answer

The students start to ask questions that indicate they are "anticipating" the concepts we have yet to discuss.  It means that they understand the material at a fundamental level and are making those "intellectual leaps" to thinking about how it applies to other situations and types of problems.

Question

What makes your curriculum interesting or valuable to students?

Answer

Although students may not think it is directly valuable to them if they are not going into a "technical" field, learning mathematics helps develop those problem-solving and analytical skills that students need in all careers and intellectual pursuits.  I do try to demonstrate "real-world" applications whenever possible.  Students are especially fascinated when we discuss how the mathematical "Fibonacci" sequence can be found throughout the natural world.

Question

How do you think students describe your teaching methods and classes?

Answer

Funny, passionate, enthusiastic, challenging, and organized. (At least I hope so).

Question

What are some ways that you help students succeed when they need extra help?

Answer

I encourage them to seek help not only from me but from each other, from tutors and other support staff, and from online resources.  I try to help them realize that they are not alone with their struggles with math, but that with practice and hard work, they can improve not only their math skills but their overall intellectual ability.

Question

How do you help your students get the most out of your class?

Answer

I teach them study skills for learning math.
Fun Facts
Fun Fact #1

I can warble very loudly like "Xena-Warrior Princess." (If my students are being rather loud and reluctant to quiet down, I warn them, "don't make me use my Xena yell.")

Fun Fact #2

I have visited 49 states and lived in 7.

Fun Fact #3

I sing Alto I in a women's chorus in St. Paul.
Meet Our Students and Alumni
Student Carousel
Carousel Navigation
Carousel Slides
Meet Garret Vensland

Garret Vensland

MnTC

Associate in Arts

"An education can have a profound and positive impact on people's lives. I love helping people and working with youth. With the help of my education here, I can do both in the future."

Meet Heather Jones

Heather Jones

MnTC

Associate in Arts

"I came to Anoka-Ramsey to figure out what I wanted to go into after going to a four-year university, and I realized where I thought I wanted to go wasn't really what I wanted. I was able to find the foundation for an amazing career here at half the cost."

Meet Behram Radmanesh

Behram Radmanesh

MnTC

Associate in Arts

"Anoka-Ramsey was affordable, had good resources and excellent professors. Be sure to make use of the tutoring center!"
Carousel Pagination