Profile - Porscha Sullivan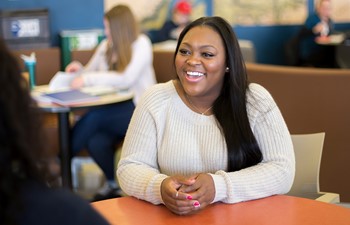 Student Profile
Meet Porscha Sullivan
Business program
Question and Answer
Question

What are your future plans after Anoka-Ramsey?

Answer

My dream job is to be the owner of a child care facility. My future plans are to never stop until my goals and dreams are accomplished.

Question

Who would be your favorite instructor(s)?

Answer

Mariae Hunter (Business).

Question

What is one thing you want people to know about Anoka-Ramsey?

Answer

That whenever in doubt don't hesitate to ask for support, because the college cares for your success as much as you do.
Fun Facts
Fast Fact #1

Porscha has 3 children, 1 boy and 2 girls.

Fast Fact #2

Porscha's hobbies include fashion and singing.
Meet Our Students and Alumni
Student Carousel
Carousel Navigation
Carousel Slides
Meet Amy Anderson

Amy Anderson

Business

AS Marketing & Management

"In the Business program I learned so much more than just the skills that employers are looking for. I learned the ability to exceed employers' expectations as well as your own!"

Meet Porscha Sullivan

Porscha Sullivan

Business, Management & Administration

AS Business

"I chose Anoka-Ramsey because of the opportunities and the atmosphere. Whenever in doubt, don't hesitate to ask, because they care for your success as much as you do. You learn so much and the things learned and experienced can be taken with you, and added to your portfolio."

Meet Cassandra Bauer

Cassandra Bauer

MnTC

AA & Business

"Anyone of any age wanting to go to college to pursue a degree or general education can come to Anoka-Ramsey and expect a great education and a great time.

When you apply for a scholarship, you will likely get one. I received two scholarships my freshman year: The Otto Bremer Scholarship for $1,500 and the Presidential Scholarship for $3,000."
Carousel Pagination