Profile - Michelle Laumb-Michels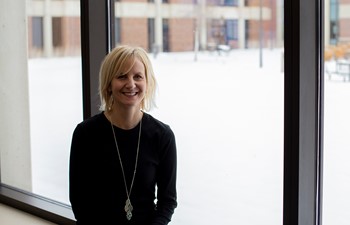 Instructor Profile
Meet Michelle Laumb-Michels
Instructor of Business
Bachelor's of Science (BS) in Finance, St. Cloud State University; Masters of Business Administration (MBA), University of St. Thomas; Working on a Doctorate in Education (Ed. D.), Concordia University
Question and Answer
Question

Teaching Statement

Answer

I believe learning in any capacity is a daily endeavor. I believe my role as an educator is to explain the business environment to students, to bring to life relevant information and critical concepts and to help students achieve success in the business arena.

Question

What makes a successful class?

Answer

A very successful class is one in which the knowledge I have shared comes full circle. When I get a chance to hear students using business language, teaching each other concepts and applying what they have learned, it is a good day. I love when students get in front of the class and try explaining a decision they have made or take on a leadership role.

Question

How do you think students describe your teaching?

Answer

The one comment I get repeatedly is that I am patient. Whatever we are doing in class, from a case study to taking lecture notes, I want students to know I care about them and the fact they are learning valuable information. I try to create real scenarios for students to consider and make coming to class a valuable use of time.

Question

How do you help students get the most out of your classes?

Answer

I put myself in their shoes. If I would find the class activities and material interesting, then I feel comfortable with it.
Fun Facts
Fun Fact #1

I am married with two boys.

Fun Fact #2

I read five different books at one time.

Fun Fact #3

My car is a 2002. I cannot imagine getting rid of it. It is actually older than some of the students I teach!
Meet Our Students and Alumni
Student Carousel
Carousel Navigation
Carousel Slides
Meet Amy Anderson

Amy Anderson

Business

AS Marketing & Management

"In the Business program I learned so much more than just the skills that employers are looking for. I learned the ability to exceed employers' expectations as well as your own!"

Meet Porscha Sullivan

Porscha Sullivan

Business, Management & Administration

AS Business

"I chose Anoka-Ramsey because of the opportunities and the atmosphere. Whenever in doubt, don't hesitate to ask, because they care for your success as much as you do. You learn so much and the things learned and experienced can be taken with you, and added to your portfolio."

Meet Cassandra Bauer

Cassandra Bauer

MnTC

AA & Business

"Anyone of any age wanting to go to college to pursue a degree or general education can come to Anoka-Ramsey and expect a great education and a great time.

When you apply for a scholarship, you will likely get one. I received two scholarships my freshman year: The Otto Bremer Scholarship for $1,500 and the Presidential Scholarship for $3,000."
Carousel Pagination