Profile - John Ivanauskas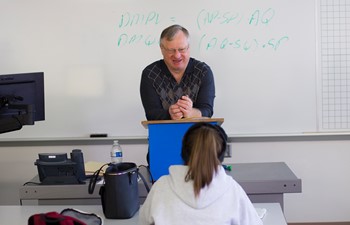 Instructor Profile
Meet John Ivanauskas
Instructor of Business
Bachelor of Science (BS) in Mathematics/Physics, University of Wisconsin-Eau Claire; Master in Business Administration (MBA) in Accounting, University of Wisconsin-Madison
Question and Answer
Question

Teaching Statement

Answer

"Thinkers" are most apt to get ahead in the world and thus I attempt to have students learn concepts and subject matter by using logical thinking.

Question

Awards, Recognitions, and Publications

Answer

Certified Public Accountant (CPA)
Certified Management Accountant (CMA)

Question

How would you describe what happens during one of your classes?

Answer

A successful class is one in which the students are interested in learning and thus willingly participate. They are also not afraid to be wrong in answering a question so the discussion can lead to learning.
Meet Our Students and Alumni
Student Carousel
Carousel Navigation
Carousel Slides
Meet Amy Anderson

Amy Anderson

Business

AS Marketing & Management

"In the Business program I learned so much more than just the skills that employers are looking for. I learned the ability to exceed employers' expectations as well as your own!"

Meet Porscha Sullivan

Porscha Sullivan

Business, Management & Administration

AS Business

"I chose Anoka-Ramsey because of the opportunities and the atmosphere. Whenever in doubt, don't hesitate to ask, because they care for your success as much as you do. You learn so much and the things learned and experienced can be taken with you, and added to your portfolio."

Meet Cassandra Bauer

Cassandra Bauer

MnTC

AA & Business

"Anyone of any age wanting to go to college to pursue a degree or general education can come to Anoka-Ramsey and expect a great education and a great time.

When you apply for a scholarship, you will likely get one. I received two scholarships my freshman year: The Otto Bremer Scholarship for $1,500 and the Presidential Scholarship for $3,000."
Carousel Pagination